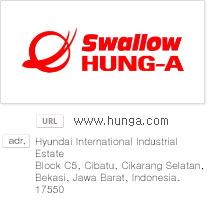 PT.HUNG-A INDONESIA established in 1991 based on the accumulated technology and
know-how manufactures various types of tires and tube products and is the key base for HUNG-A group's global management.
PT.HUNG-A INDONESIA exports more than 70% of the whole production to Europe and has been delivering the product to Dunlop, which is the company who originated the tire, early on while building presence in Indonesia. In the domestic market, PT.HUNG-A INDONESIA partnered with multiple Indonesian companies to ensure the market share and is proving the best quality and trust from the market. Especially, the high-end tire for MTB has been maintaining the 1st place in sales with our brand in Germany, the home of continental tire, and PT.HUNG-A INDONESIA is expanding the market to overall Europe based on this position.

PT.HUNG-A INDONESIA obtained ISO9001 certification to be equipped with the quality system required in the global market and is adding to the price competitiveness for global marketing.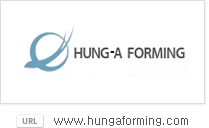 With the price of first class quality in automobile trim,bumper, molding and channel, HUNG-A FORMING has established the next generation quality standard.
HUNG-A FORMING obtained ISO 9001 and ISO/TS 16949 certification for various types of products that decide the performance of the vehicle, and is continuously in pursuit for quality improvement based on the accumulated technology and R&D capability.

HUNG-A FORMING that is building the trust as the 'Company that is loved by all', has been continuously growing significantly year over year to expand both quantitatively as well as qualitatively in the domestic automobile industry.
HUNG-A FORMING is focusing on expanding the business base, which has been mainly within the domestic market in the past, to foreign markets and at the same time is building the global competitiveness to become a world class company in the 21st century based on innovative technology and new product development to surprise the global automobile industry.

SCHWALBE brand bicycle tires can be found from the USA to Australia and Japan to South Africa. And in Europe we are the market leaders! We believe there are two reasons for this success.

Firstly: We are "tire fanatics"! Absolutely specializing in bicycles and for some years also in wheelchairs.
Secondly: Our tires can't be found everywhere, but exclusively in the specialized trade! Because to our mind, qualified advice and good service are a must.
And we know: Only the specialized trade can ensure both.

SCHWALBE is the brand. Bohle is the company and since its establishment in 1922 it has been a family concern, now headed by third generation.

Bohle international.
Head office in Germany, subsidiary companies in France, Great Britain, Italy and Holland. Partners in 28 other countries. Partnership production with Korean tire manufacturer Hung-A in Jakarta, Indonesia.